Dr. Najla Bell
Dr. Najla Bell is a native of Jacksonville Beach and now calls St. Augustine home. She lives with her husband and their two children and earned a Bachelor of Science from Queens University of Charlotte in North Carolina and then received her veterinary degree from the University of Florida, College of Veterinary Medicine. Dr. Bell has extensive experience in preventive medicine as well as emergency medicine. She has worked in 24 hours practices for many years and before veterinary school, worked in wildlife rescue, medicine and rehabilitation. A life-long animal lover and owner, Dr. Bell strongly recommends preventative care and always seeks a balance of appropriate treatment for every patient.
"I am very excited to be a part of the team at MuraBella Animal Hospital and I feel so lucky to be able to offer the very best in animal health here at MuraBella. I look forward to meeting you and your family!"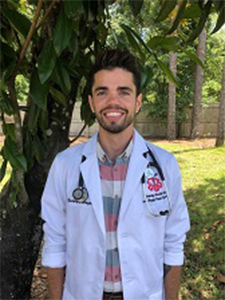 Dr. Zachery Drilingas
Dr. Zachery Drilingas is originally from Cedar Hill, MO and now resides in St. Augustine, FL with his two dogs, Mia and Vera. Dr. Drilingas completed his undergraduate degree in Animal Science at Southeast Missouri State University in Cape Girardeau, MO. Prior to veterinary school, Dr. Drilingas worked for the Boy Scouts of America and in retail. He graduated from the University of Missouri, College of Veterinary Medicine with his Doctorate of Veterinary Medicine. Dr. Drilingas has special interests in surgery, cardiology, and preventative care.
He hopes his past experience in customer service provides peace of mind to owners that their pets' are receiving gold standard level of care and the confidence in the knowledge about their pets' condition to aid in decision making. In his spare time you can find him at the beach, crafting something in his garage, baking, or somewhere else outdoors.
Ryan Meyer, Hospital Director & Owner
Ryan is a native Floridian and grew up in an animal loving family with 6 cats! He currently lives in St. Augustine with his wife and two children.
"I am so excited to be joining the team at MuraBella Animal Hospital. We offer a full spectrum of services using technology and cutting-edge medicine while respecting your busy schedule. From vaccinations and heartworm prevention to surgery and acupuncture, I am proud to say we provide the best in animal medical care for St. Augustine. Come by and ask for a tour of our facility, I look forward to meeting you and your family."
Mel, Practice Manager
Melissa has spent many years working in the veterinary field, most often working overnights with emergencies. She moved to St Augustine from Miami in August 2017 and joined the MuraBella team. She has several pets of her own including: 2 dogs, 4 cats, a red tail boa, a bearded dragon, an Asian water monitor and a fire skink. She lives here with her husband, 3 sons and a new baby girl. Mel has always had a love for animals and has dedicated her life to helping them.
Keith, Veterinary Technician
Keith Andreu is from the Saint Augustine area and has recently moved back from Savannah to be closer to family. He lives with his wife, Rebekah, and his two dogs, Louis and Peppermint. His Aunt is a Veterinarian and that is how he was introduced to the field of veterinary medicine. He has been in veterinary medicine for the past 6 years and has a special interest in Veterinary Dentistry. He loves to spend his time off with family, watching sports, golfing and grilling out.
Karen, Lead Client Representative
Karen joined our team in February 2016 and has been a great addition ever since! Graduating from St. Mary of the Woods College in 2014 with a B.S. in Equine Business Management, she brings her knowledge of large animal care to our small animal practice. Karen also studied Business Administration, which has helped assist her in her current role as Lead Client Service Representative. Karen has a dog named Stella (who is often seen supervising the reception desk!) and a horse named Whooy.