Dr. Najla Bell, Medical Director
Dr. Najla Bell is a native of Jacksonville Beach and now calls St. Augustine home. She lives with her husband and their two children and earned a Bachelor of Science from Queens University of Charlotte in North Carolina and then received her veterinary degree from the University of Florida, College of Veterinary Medicine. Dr. Bell has extensive experience in preventive medicine as well as emergency medicine. She has worked in 24 hours practices for many years and before veterinary school, worked in wildlife rescue, medicine and rehabilitation. A life-long animal lover and owner, Dr. Bell strongly recommends preventative care and always seeks a balance of appropriate treatment for every patient.
"I am very excited to be a part of the team at MuraBella Animal Hospital and I feel so lucky to be able to offer the very best in animal health here at MuraBella. I look forward to meeting you and your family!"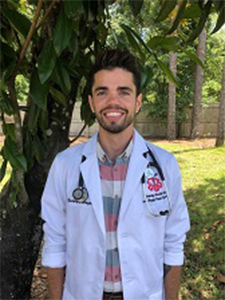 Dr. Zachery Drilingas, Associate Veterinarian
Dr. Zachery Drilingas is originally from Cedar Hill, MO and now resides in St. Augustine, FL with his two dogs, Mia and Vera. Dr. Drilingas completed his undergraduate degree in Animal Science at Southeast Missouri State University in Cape Girardeau, MO. Prior to veterinary school, Dr. Drilingas worked for the Boy Scouts of America and in retail. He graduated from the University of Missouri, College of Veterinary Medicine with his Doctorate of Veterinary Medicine. Dr. Drilingas has special interests in surgery, cardiology, and preventative care.
He hopes his past experience in customer service provides peace of mind to owners that their pets' are receiving gold standard level of care and the confidence in the knowledge about their pets' condition to aid in decision making. In his spare time you can find him at the beach, crafting something in his garage, baking, or somewhere else outdoors.
Ryan Meyer, Hospital Director & Owner
Ryan is a native Floridian and grew up in an animal loving family with 6 cats! He currently lives in St. Augustine with his wife and two children.
"I am so excited to be joining the team at MuraBella Animal Hospital. We offer a full spectrum of services using technology and cutting-edge medicine while respecting your busy schedule. From vaccinations and heartworm prevention to surgery and acupuncture, I am proud to say we provide the best in animal medical care for St. Augustine. Come by and ask for a tour of our facility, I look forward to meeting you and your family."
Mel, Practice Manager
Melissa has spent many years working in the veterinary field, most often working overnights with emergencies. She moved to St Augustine from Miami in August 2017 and joined the MuraBella team. She has several pets of her own including: 2 dogs, 4 cats, a red tail boa, a bearded dragon, an Asian water monitor and a fire skink. She lives here with her husband, 3 sons and a new baby girl. Mel has always had a love for animals and has dedicated her life to helping them.
Emily, Veterinary Nurse
Emily grew up in New Jersey, has always had an interest in animal medicine, and took vet assisting classes in Highschool. Ever since she has been working in veterinary medicine and started at Shores Animal Hospital in December of 2020. Emily has one Dog named Leila and an aquarium with many different kinds of freshwater fish that she takes care of. Emily also loves cats, She worked at a cat clinic for two years and is Shores "Lion Tamer" for always enjoying working with feisty felines.
Katy, Veterinary Nurse & Marketing Coordinator
Katy Valerio is originally from a small town called Inverness, FL. She originally worked as a boarding manager and volunteered as a hospital caretaker so she is familiar with medicine as well as animals. She is the marketing coordinator for Shores Animal Hospital and always had a passion for animals. At home, she has a 16-year-old Maltipoo, a 4-year-old Pomeranian, a 3-year-old Min Pin Mix, a bearded dragon, and usually has a foster animal roaming in her house.
Heather, Veterinary Assistant
I grew up in New Jersey. Moved to Florida in March of 2021. Loving the beach and sunshine. Excited to see winter without snow. I have worked in the medical field for 6 years but Shores in my first working with animals. I always had a love for animals. I have a Chihuahua and recently adopted a second one that was brought into Shores. I also have 4 cats, a Savanah Monitor and a Bearded Dragon.
Nicolette, Client Services Representative (CSR)
Nicolette was born and raised in St.Augustine, Florida. She has a dog named Ella Mae and a bearded dragon named Nubs. Nicolette Grew up with dogs her whole life and has always loved Animals. She even hopes to have her own Dog farm one day. She has worked in Customer Service for 5 years and loves interacting with our clients and patients. Away from work She enjoys Fishing, Camping and Loves spending time with her family and friends.
Brittney, Client Services Representative (CSR)
Brittney was born in St. Augustine, Fl but raised about an hour away in Pomona Park, FL. Brittney has always loved taking care of animals, she spent every summer growing up at her grandparent's ranch helping out and has always had animals at home. Brittney has worked in customer service for 8 years and loves helping people. Outside of work, she loves spending time with her son and family.
Crystal, Groomer
Crystal joined our team in 2019 starting at Murabella Animal Hospital and then transferring with the opening at Shores Animal Hospital in her new grooming suite . She has been in the grooming industry since 1997. Starting out working as a bather and going to grooming academy in 2010. She continues her education every year taking seminars on techniques and styles. Crystal is a member of National Dog Groomers of America as well as an AKC S.A.F.E. Groomer and Opawz Certified Creative Groomer Crystal is an all breed, tall to small, and cats too! She has also groomed exotics like ferrets, rabbits, skunks, goats, chickens, and hedgehogs!
During her time off she enjoys spending time with her family, including her two daughters ages 22 and 10. She also has a small zoo at home including 3 dogs, a cat, fish, lizards, snakes, tarantulas, scorpions and lots of birds. If you ask her how many pets she has, she'll tell you "I stopped counting.". She often takes her arachnids and reptiles to schools to educate the kids. As well as take her birds, dogs and cat out for nature hikes through our local beautiful parks and walks in downtown Old St. Augustine.